Reliable Commercial Heating Repair & Service Contractors Hudson County NJ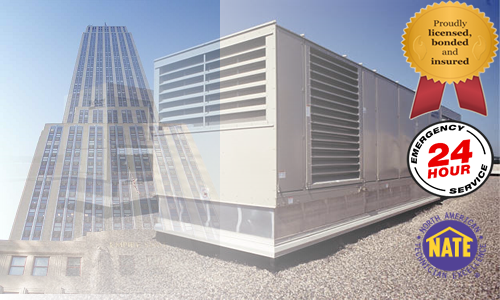 When you're commercial heating is in need of repair, regardless of its size or age, our expert team of HVAC service professionals is ready to get you back up and running as quickly as possible. Hudson Heating is comprised of dedicated staff of professional commercial heating repairs specialist that have serviced the Hudson NJ area for well over 20 years. Our experience in working with companies, large and small, has given us the expertise to fix or maintain virtually any type of commercial heating system in Hudson.
Commercial Heating Systems Installations, Repairs and Maintenance Hudson NJ
As a licensed, insured and bonded HVAC service company, Hudson Heating is ready to keep and maintain the integrity and quality of your commercial heating system in Hudson NJ. If you need to have your heating system simply maintained, or need a new heating system installed for your commercial application, our staff has the experience and affordable rates to get the job done right – and always placing an emphasis on timely delivery so you can continue to service your customers.
Top Commercial Heating Contractors
Regardless of the problem your commercial heating system in Hudson is experiencing, we're ready to take on the job. Our experienced staff of service technicians has worked on thousands of commercial heating systems over the past 20 years. Plus – each of our repair experts continues to undergo extensive training to ensure we stay on top of the latest techniques and repair methods for the commercial industries we have worked with for decades. For more information about the commercial heating repairs in Hudson NJ we offer, contact our professional staff today.
Finding a heating service repair company in the Hudson NJ area is easy. But when you need to depend on a professional company to keep your commercial heating system in operational shape or to complete commercial heating repairs, installation and maintenance on time and within your budget, you can rely on the experts at Hudson Heating.