Boiler Repairs And Service Hudson County NJ

Hudson Heating has been around for many years. And vast experience in completing heating system repairs and installation extends to working on boiler systems as well. The east coast is flooded with older boiler systems that often need service or maintenance in order to keep operational. And as a company who is licensed, insured and bonded to complete boiler service in Hudson NJ, you can be certain you'll receive the best service at the best price when you work with Hudson Heating.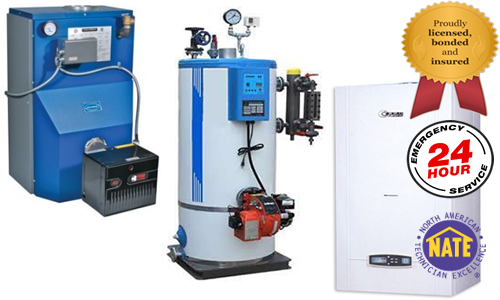 Residential & Commercial Boiler Repairs Service
If your boiler is not working as it should, our team can fix it – and always at a price you can afford. For over 20 years we have provided boiler repair in Hudson NJ to thousands of satisfied home and commercial customers. And with every interaction we place an emphasis on quality and your safety above anything else. Our team of professional service experts has experience in completing virtually any boiler repair job in Hudson you'll need or can imagine. For more information about the boiler repair services we offer, contact us today.
Residential & Commercial Boiler Installations
There are times when your boiler simply can't be fixed. And when this time approaches, you can depend on Hudson Heating to complete the best and most accurate boiler installation in Hudson NJ. When you contact our professional team, we will take proactive measures to ensure to cover each step of the boiler installation process. From removing your older system, to inspecting all aspects of the heating system inside your home or commercial building, Hudson Heating strives to offer the most complete boiler installation services in Hudson NJ possible – and always a pricing you can afford.
Boiler Replacement Service
Like every machine and especially part of an hvac or a heating system, boilers have a limited life span. So when a boiler have reached it's limit of functionality, it's then time to replace it. That's when our hvac company comes into play. If you are in or around Hudson County and need to replace your boiler do not hesitate to call us. We recommend that any boiler system be inspected before winter in order to keep the system operational when you need it most. However, no matter what time of year it might be, or what type of system you have, Hudson Heating has a boiler maintenance solution in Hudson that is affordable.
Finding a heating service repair company in the Hudson NJ area is easy. But when you need to depend on a professional company to keep your boiler working, or install a new one within an affordable budget, you can rely on the experts at Hudson Heating.
Boiler Hudson County NJ